Download a booklet:
"A Faith Worth
Thinking About"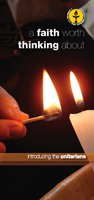 click here for a free download
Highland Place Unitarian Church
Minister Emeritus - Rev. J. Eric Jones
The Church of the open mind.
We welcome people who wish to worship in freedom and tolerance. We actively encourage people to think through their beliefs for themselves, as we do not follow a set creed, but encourage open reflection and discussion. Moreover, all Unitarians do not all hold the same beliefs and we agree to differ on this. We respect people of different Christian backgrounds, encourage understanding of other faiths, and worship happily with those who prefer to be known as Humanists.
The Rev. Andrew Hill writes that - "The Unitarian Path is a liberal religious movement, rooted in the Jewish and Christian traditions, but open to insights from World faiths, reason and science and, within a spectrum, extending from liberal Christian thought to religious humanism".
The format of our services includes Biblical and non-Biblical readings, music, meditation, congregational hymns, periods of reflection and a short address. If you are interested in Unitarianism, and would like to attend one of our Services, the details of which are displayed on this web site, you would be made very welcome.
The Church has an active congregation and is a member of the South East Wales Unitarian Society (SEWUS).
Highland Place is a full member of the General Assembly of Unitarian and Free Christian Churches.
Eglwys Undodaidd Highland Place yw yr unig eglwys Undodaidd yng Nghwm Cynon. Yr Hen Dy Cwrdd yn Nhrecynon yw'r Fam Eglwys ac fe ffurfiwyd cynulleidfa yno ym 1751. Agorwyd Highland Place, sy'n sefyll wrth ochr y ffordd fawr i gyfeiriad y Maerdy o ganol Aberdar, ym 1860 ac edrychir ymlaen at ddathlu 150 mlynedd yn hanes y gynulleidfa yn y flwyddyn 2010.
Mae'r gynulleidfa yn un fywiog gyda gwasanaethau bob Sul am 6 p.m. arwahan i'r ail Sul yn y mis, pan gynhelir gwasanaeth am 11 y bore. Er mai yn Saesneg mae'r gwasanaeth, defnyddir Llyfr Emynau Cymraeg hefyd o dro i dro.
Mae yma gangen fywiog o Urdd y Benywod sy'n cyfarfod bob p'nawn Mercher am 2 o'r gloch gyda rhaglen amrywiol. Mae croeso i bawb i droi i mewn.
Defnyddir y neuadd gan amryw o fudiadau gan gynnwys ymarfer Band, cyfarfod ieuenctid, dosbarthiadau arlunio a chelf, yn ogystal a Chlwb Darllen.
---