Download a booklet:
"A Faith Worth
Thinking About"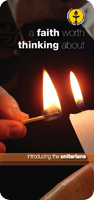 click here for a free download
ANNOUNCEMENT - Our Sunday Meeting House gatherings are on the first Sunday of the month at 3pm, with Zoom services on the second, fourth and fifth Sundays at 4pm (email the minister for details). All are welcome to share the BEAUTY and PEACE of the Meeting House by trying out our refreshingly OPEN-MINDED services.

Our monthly online "secular" discussion group, the ART OF CONVERSATION, which is open to all takes place on Zoom on the last Monday of each month at 7pm. Find us via the Meetup.com website. Alternatively, please email Matt the minister at revmatt1774@outlook.com to get the link.
Our community's VISION is to be a supportive and inclusive community of open hearts and minds, committed to love and justice. We gather to celebrate the meaning of our lives - connecting with others, locally and globally, to build a fairer, more peaceful world.
.
We set aside dogma of any kind - instead aiming to support one another on life's journey, gathering as a community of questioning, positive faith and hope for our common future.

The Meeting House is used for many purposes beyond faith meetings, including lunches, choir rehearsals, concerts, dramatic performances, history lectures and AGMs of local organisations. If room hire is your interest, your enquiries are best directed to our venue manager, Amanda Martin who manages the bookings diary and you will get all the information you need on times, prices and conditions. There is a separate website for booking hires at www.hireunitarianmeetinghouse.org.uk .

If your interest is in a funeral, a wedding or a child's naming ceremony please contact the minister in the first instance - Rev. Matt Smith Tel: (01728) 621409 - revmatt1774@outlook.com .
Seeking individual spiritual truth according to our best understanding - accepting how we are unique and yet have so much in common.
Who are the Unitarians?
Unitarians find the following important:
An inclusive outlook, giving due weight to reason and personal experience, where individual conscience is respected
Questioning and searching for higher truths
Valuing deeds (how we live daily) above creeds
Joining others with diverse beliefs seeking meaning together and fellowship with one another
If this is your outlook, you may find that the Bury St Edmunds Unitarian Congregation can offer you a spiritual home. Unitarians are not exclusive; we welcome all people of goodwill.
Bury St Edmunds Unitarian Congregation is an Excepted Charity in membership of the Unitarian General Assembly (full title - the General Assembly of Unitarian and Free Christian Churches). Our Privacy Notice in relation to data protection may be found on the Activities page on this website.
---