Download a booklet:
"A Faith Worth
Thinking About"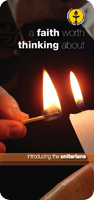 click here for a free download
Undodiaid Caerdydd/
Cardiff Unitarians
Croeso! Welcome!
Welcome to our Cardiff Unitarian community. We are a progressive, liberal church community dedicated to spirituality, curiosity, love, and justice. As Unitarians we believe in seeking spiritual oneness with all of life, building Beloved Community in the world, and following the prophets of love, such as Jesus, the Buddha and others. We welcome people of all sexual orientations and gender identities.
In normal times we meet at 4pm every Sunday at the Quaker Meeting House, Charles Street,Cardiff city centre (CF10 2GB). 
We are not currently meeting at the Meeting House. You're welcome to join every Sunday at 4pm for our online services using Zoom. Please email the Minister through the "Contact Details" page for the Zoom login details. Video services are also broadcast on our Facebook page most weeks. Please check back on this page or our Facebook page for news of when we will be next meeting in person at the Quaker Meeting House. 
Services are conducted by our minister and a variety of worship leaders. We gather to celebrate, sing, find guidance on the spiritual journey, and to practice meditation and quiet prayer. Visitors are welcome every Sunday. The second Sunday of the month the service is in Welsh. 
We are working on replacing this website with a new one. In the meantime, to get the most up-to-date information, please have a look at our Facebook page.
---