Download a booklet:
"A Faith Worth
Thinking About"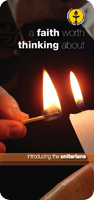 click here for a free download
Chorlton Unitarian Church
The Manchester District Association of Unitarian and Free Christian Churches (MDA) represents Unitarian churches in the Manchester area (bodies for adjoining areas are listed below*). It was established in 1859 to assist member congregations and to administer a number of charitable Trust funds.

Our congregations gather as communities of liberal religious tradition, founded in Christianity. We welcome people of many faiths or none and like to share and learn from each other as we find pathways to the God of our own understanding.

We subscribe to a national co-ordinating body, The General Assembly of Unitarian and Free Christian Churches, which has resolved:

"To promote a free and inquiring religion through the worship of God and the celebration of life; the service of humanity and respect for all creation; and the upholding of the liberal Christian tradition."

The origins of the Unitarian movement in England date from the refusal of up to 2,000 Ministers to conform to the Act of Uniformity in 1662, although Unitarians were not properly free to worship until the 18th century.

The forerunner of the Manchester District Association was formed in 1859 by a group of 'Gentlemen Subscribers'.

*Representative bodies in adjoining areas: East Cheshire Union of Unitarian and Free Christian Churches, Merseyside and District Missionary Association, North and East Lancashire Unitarian Mission. The North West Provincial Assembly organises events on behalf of Unitarians in the north west of England and the wider Unitarian community.
---