Download a booklet:
"A Faith Worth
Thinking About"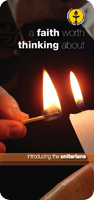 click here for a free download
Gellionnen Unitarian Chapel
We Unitarians and Free Christians are united by our ethos and values.

We aspire to create a loving, caring religious community within which we:
- Value people in their diversity and uniqueness.
- Encourage freedom of thought and speech.
- Support spiritual exploration.
- Create celebratory worship.
- Advocate justice, liberty, honesty, integrity, peace and love.

Hence we strive to:
- Make the best of the life we have.
- Be democratic in our practice.
- Celebrate life in its many forms.
- Respect people whose beliefs and attitudes are different from our own.

---