Download a booklet:
"A Faith Worth
Thinking About"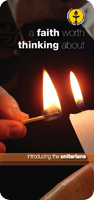 click here for a free download
Old Meeting Unitarian Church,
Great Yarmouth
Welcome to Old Meeting. We unite here to worship God, to serve humanity and, in the spirit of Jesus, give, work and pray for loving communities. We confess no creeds, but covenant with each other to respect the sovereignty of conscience in matters of faith of each and all. This is a Unitarian and Free Christian Church. A liberal, loving and questioning church, where all are welcome. Here we endeavour to be open-minded, open-hearted and open-armed.


A Meeting of Open Hearts and Minds
Formed as self-governing groups, Unitarians meet in congregations all across Britain. Whether in a church, chapel, meeting house or private home our fellowship together is based on recognition of the worth and dignity of every person.
Taking a Different View
Valuing the enquiring mind and believing that the Bible teaches the Oneness of God, our dissenting forbears came to be called Unitarians.
All the great religions contain a measure of truth. Unitarians are active in promoting understanding between people of different faiths at international, national and local levels.
Our logo shows the symbol of a flaming chalice which is the universal sign of the Unitarian Church. It represents the flame of the living truth within the chalice of shared faith. The Unitarians have three main principles; Freedom, Reason and Tolerance. While they accept many of the traditional church teachings, they believe that no doctrine is too sacred to be questioned. Their faith is "a religion of questions and not answers."
---