Download a booklet:
"A Faith Worth
Thinking About"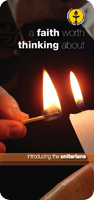 click here for a free download
Hastings Unitarian Church We are now offering Live and online services most weeks. Our services start at 11am Please email hastingsunitarianchurch@hotmail.com for further details
Unitarians have a different approach to religion to that of all other faiths and denominations. We have no fixed statement of beliefs or creed to which you have to agree in order to be accepted. We practice a free faith unfettered by dogma. Our attitude is that religion is wider than any church or faith group and deeper than any set of beliefs.

We think that every person has the right to form their own opinions in matters of religious belief.

We derive inspiration from all forms of human experience; art, nature, history and literature, scientific discovery and space exploration, as well as from the insights and precepts of ancient and traditional scriptures from around the world.

Our heritage dates back many centuries, and yet we have a faith that guides and supports us in this era of rapid change.

We hold that all religious belief should be acceptable to intelligent reasoning, and we seek to enlarge and deepen our personal faith in a spirit of free enquiry, and with tolerance and understanding of other people's views.

Though Unitarian is not a well-known name, there have been many famous and thoughtful Unitarian men and women who have been leaders in science, medicine, education, humanitarian progress and world harmony.

If you would like to worship in a free atmosphere, or join with others who seek religious development in a friendly and open fellowship, you are most welcome to try any of our services.
---