Download a booklet:
"A Faith Worth
Thinking About"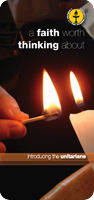 click here for a free download
King Edward Street Unitarian Chapel
We are an open and welcoming community of diverse individuals who together nurture one another's lifelong spiritual journey

We Welcome You

Our Covenant statement expresses our wish and intention to welcome all into our community. Unitarians value diversity, recognising that we all can learn from one another - so the richer the mix, the greater the learning!

Here in Great Britain we have a proud heritage of commitment to equality. In the 19th century, Unitarians were instrumental in bringing about such reforms as the abolition of the slave trade, equal rights for women, freedom of conscience, and votes for all.

We have been prominent in the field of inter faith understanding - establishing the world's first multi-faith organisation, The International Association for Religious Freedom

We have long campaigned for legal and social equality for lesbians and gay men, and for decades same sex relationships have been celebrated and blessed in Unitarian ceremonies.
Our chapel is now licensed for same sex marriage.

Here in Macclesfield we aim to build and maintain a community of welcome and respect, described in the words of one of our hymns, by Andrew Hill:-

A place for people of all kinds
And all abilities;
A place for people from all parts
And nationalities;
A place for people of all faiths,
Despite their difference,
Their age, their colour or their race,
Their sex or preference.

It is in keeping with these values that we try to offer a variety of gatherings . . . both spiritual and social.
To find out more visit our REGULAR GATHERINGS page

I like the sound of all this.

Am I welcome to try things out, and maybe get involved?

In the same open way that we would welcome your ideas, we would welcome you if you wanted to join our community.

The steps towards joining are very few and very easy:

Come along to anything that's going on, to see what you think.

Talk to anyone you like about anything you like (including Michael directly if you like) to see if you can find the catch - because it all seems so easy.

Then get involved in the ways that suit you.


---