Download a booklet:
"A Faith Worth
Thinking About"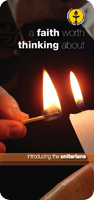 click here for a free download
Maidstone Unitarian Chapel
A Faith that inspires but does not affront reason, unfettered by creed or dogma. We seek the Truth and we welcome all who wish to worship with us. We Unitarians are united by our ethos and values. We aspire to create a loving, caring, religious community within which we a) Value people in their divesity and uniqueness b) Encourage freedom of thought and speech c) Support spiritual exploration d) Create celebratory worship e) Advocate justice, liberty, honesty, integrity, peace and love.
---