Download a booklet:
"A Faith Worth
Thinking About"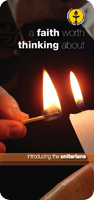 click here for a free download
Artwork by Paul Matosic
Welcome to the website of Nottingham Unitarians
We gather for worship and fellowship, to create a caring community where all feel supported in our search for meaning and value. Unitarians are an open faith community celebrating diverse beliefs. We originate from the liberal Christian tradition, but now include people of other faiths as well as spiritual seekers.
Unitarians do not discriminate on grounds of gender (we have had women ministers for more than 100 years), age, race, religion or sexual orientation.
Unitarianism differs from many other religions in that we believe in helping people find their own spiritual path rather than defining it for them.
We welcome all those with open minds who share our views on tolerance toward others, who embrace the freedom to be in a faith community that does not impose creeds or specific beliefs, and where the approach is based on reason not dogma.
For more about Unitarianism and the Unitarian movement, go to our national website:
www.unitarians.org.uk
---