Download a booklet:
Unitarian Views
Of Jesus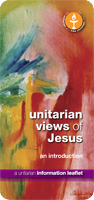 click here to download
Services
Services are held at 11.00 on the 3rd Sunday of the month.

Our services of worship can be viewed as a celebration of our deepest values and aim to enhance the spiritual path of the individual and the collective fellowship.

You will find our services are varied and interesting, taking the form of Liberal Christian, Multi-Faith, Cafe Style (an open service where the congregation can contribute pieces of their choice) and even an Earth Spirit Christian variant. Services can consist of a sermon, music, hymn-singing, readings, prayer and meditation and can also being based around specific events such as Sacred Earth Day as well as dates on religious calendars.

We welcome all to our services, locals and visitors, religious and non-religious. You are also welcome to join us for refreshments and a chat after the service.

Planning Your First Visit - If you are planning your first visit to Torquay Unitarians, why not get in touch with us at torquayunitarians@gmail.com . We can arrange for someone to welcome you personally to help you feel at home. We can show you around, introduce you to some new friends and arrange any needs you may have.

On Holiday or Visiting South Devon- Come and make one of our services part of your stay. Let us know you are coming and we'll arrange someone to meet and greet you and show you around.