Download a booklet:
Unitarian Views
Of Jesus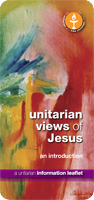 click here to download
Services
Our services of worship can be viewed as a celebration of our deepest values. We see our religious beliefs as relevant to all aspects of life including the wider community.

Services are held every Sunday at 10.00 am. Our Sunday services are usually conducted by our Minister and consist of music, hymn-singing, readings, prayer and an address.

There is also provision for children who have their own programme during the service.

All visitors and enquirers are made most welcome and are invited to join us for coffee and a chat after the service.


Unity Church is a member congregation of the Unitarian movement that evolved out of a desire to be free from the restrictions of formal creeds and doctrines. The name "Unitarian" was chosen because of a resistence to the doctrine of the Trinity which early members found to be irrational and impossible to justify. Modern Unitarians have a much wider perspective with a vast range of religious opinion. Unitarianism is about being free to find your own place, to be comfortable with your own beliefs and encouraged continually to explore and to challenge.