Download a booklet:
Unitarian
Weddings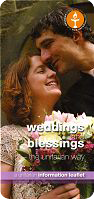 click here to download
Weddings
Unity Church is registered and licensed for weddings and we welcome couples who wish to celebrate their special day in a small and intimate church.

We welcome ALL couples whether they be older couples or their previous marriages have ended in divorce.

A Blessing on a union conducted elsewhere could also be arranged.


Unity Church is a member congregation of the Unitarian movement that evolved out of a desire to be free from the restrictions of formal creeds and doctrines. The name "Unitarian" was chosen because of a resistence to the doctrine of the Trinity which early members found to be irrational and impossible to justify. Modern Unitarians have a much wider perspective with a vast range of religious opinion. Unitarianism is about being free to find your own place, to be comfortable with your own beliefs and encouraged continually to explore and to challenge.