Download a booklet:
"A Faith Worth
Thinking About"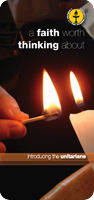 click here for a free download
Walmsley Unitarian Chapel


Chapel services have now resumed, every Sunday, starting at 11.00am. They are run in accordance with Covid regulations: everyone is asked to wear a mask and to book ahead by phoning 01204 307556 (Lynne Cubbin) or 01204 596786 (Jim Sheffield). The service is socially distanced.

We remain a strong spiritual community and keep everyone in our love and prayers at this time.

We are all divine sparks of the greater Light of the spirit. In our meditations, may we envision ourselves filled with this light and feel its potential healing power within. And may our communities and all beings on our planet earth be held in the light that is Love.

(Our usual home page message as below)

"Let no person be a stranger here"
Are you interested in an open minded spirituality which encourages us to listen to the wisdom of our own hearts & souls in the spirit of freedom and compassion?

If so, then our Unitarian chapel may be what you are searching for.

Walmsley Unitarians share the values of mutual respect and care for each other with an attitude which is down to earth, humorous, warm and friendly. Here, a sense of spiritual community and belonging is valued through building connections by meeting together. People hold a variety of religious/spiritual beliefs and approaches, alongside the basic Unitarian tenet of respect for the inherent worth and dignity of all beings


Nurturing faith * Celebrating life. * Embracing difference. *
---