Download a booklet:

"A Faith Worth
Thinking About"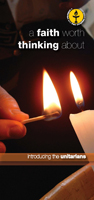 click here for a free download
Flowergate Old Chapel
We come together on our spiritual journeys from many different walks of life.

We meet for quietness and reflection and discovery knowing there is no one religious truth.

We come together with an open heart and mind believing that each person has the right to seek their own truth.

We aspire to being a loving, caring religious community in which people are valued in their diversity and uniqueness.

Visitors are warmly welcome.
Directions
The chapel is at the bottom of Flowergate (see map). Although it is not shown on the road map, there is actually a pedestrian link called Golden Lion Bank between the St. Ann's Staith/Harbour bridge junction and the bottom of Flowergate.
The chapel is not visible from the road, but you should look for the double green door and chapel sign as shown in the above photograph. The door is between the Sutcliffe Gallery and the Java cafe. Beyond this outer door there is a short passageway leading to the main chapel door on your right.

N.B. The chapel is normally kept locked and is therefore only open for viewing at the times of the monthly service or when there is some special event/activity.
---