Download a booklet:
Unitarian Views
Of Jesus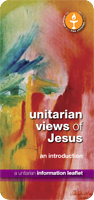 click here to download
Services
Service Leaders
You are warmly welcome to attend our services
at 11am
each Sunday morning.
On the first Sunday of each month the service will take place in the Schoolroom
22nd May
Steve Hible - member of Upper Chapel
29th May
A joint service with Fulwood Unitarians at Underbank Chapel
5th June
Rev Maud Robinson
in the Schoolroom
12th June
Paul Dawson - member of Wakefield Unitarians
19th June
Rev Maud Robinson
26th June
Ed Fordham - Lay Leader of Great Hucklow Unitarians
3rd July
Rev Maud Robinson
in the Schoolroom
10th July
Francis Elliot Wright - member of Doncaster Unitarians
17th July
Rev Maud Robinson
24th July
Jenny Jacobs - member of York Unitarians
31st July
Viv Ellison, Karen Allison and Joy Wilson
7th August
Rev Maud Robinson
in the Schoolroom
We gather for worship each Sunday morning at 11am.

Our services of worship can be viewed as a celebration of our deepest values. We see our religious beliefs as relevant to all aspects of life including the wider community. They generally consist of music, hymn-singing, readings, prayer, meditation and a sermon.

Our minister Rev Maud Robinson generally leads our service on the 1st and 3rd Sundays of the month.

Services on other Sundays are led by visiting ministers and lay leaders. We enjoy a wide variety of perspectives from visiting speakers who range from Atheists to Buddhists, Presbyterians to Pagans.

All visitors and enquirers are made most welcome and are invited to join us for coffee and conversation after the service.