Download a booklet:
Unitarian Views
Of Jesus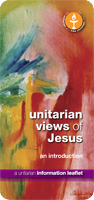 click here to download
Services
Services at .....
Our services of worship can be viewed as a celebration of our deepest values. We see our religious beliefs as relevant to all aspects of life including the wider community.

Over half the time our Sunday services are conducted by our lay leader, and consist of a sermon, music, hymn-singing, readings, prayer and meditation.

We also enjoy a wide variety of perspectives from visiting speakers who range from Atheists to Buddhists, Presbyterians to Pagans.

All visitors and enquirers are made most welcome and are invited to join us for coffee and a chat after the service.